20. 'Tie-Gate'
The talk of the town for months on end. Bryan Danielson (aka Daniel Bryan) was fired for choking out WWE ring announcer Justin Roberts with his tie during one of the first Nexus invasions on Raw. Fans everywhere–including myself–wondered how WWE could let someone with the potential of Bryan Danielson leave the company and potentially sign with their competition. He updated his Twitter, with Tweets to the effect of, 'now's not the time to speak. Soon,' which further fueled speculation. When he began doing the indy circuit once again, many–again, including myself–wondered what his next move would be once his 90-day no-compete clause was lifted. Since he eventually re-signed, many have wondered whether the firing was a legitimate move made by WWE brass, or if the "firing" was a work that intended to bring him back just in time for a surprise return at SummerSlam when he sided with Team WWE against the Nexus.
19. John Cena Joins Nexus
On the Viewer's Choice edition of Raw, a group of guys came out and basically dismantled the entire WWE set. It was totally unexpected and unpredictable, and it looked almost real. This group of rebels called themselves the Nexus. Nobody saw this coming, and especially in a day-and-age when the internet has everything leaked online before it happens, it makes you appreciate just how great this angle was when it started. The idea of Nexus–a slew of unknown, inexperienced wrestlers with zero fan credibility from the reality show NXT Season 1–taking out John Cena on a Raw in June of 2010 was one of the most unexpected angles in wrestling in recent memory. What surprised many was not only how green these talents were, but just how well executed the entire thing was. The entire Nexus stable was solely focused on Cena, with occasional beatdowns of other WWE superstars with their trademark surround-and-collapse of the ring. In the WWE, it was unquestionably the biggest angle of the year, and according to house show promos, is scheduled to run through until February 2011 at the very least.
That, in itself, was terrific. But wait, there's more! With some added twists and turns, John Cena would eventually lose to Wade Barrett at Hell in a Cell, forcing the WWE's top babyface to join the top heel faction. While this part of the angle wasn't executed too well at times–for example, they ended the Cena-in-Nexus angle much too soon, even though it was much longer than the average WWE angle–but it had the makings for a terrific storyline. My biggest beef with this was that Cena never went a full-fledged heel. That, and Nexus should've won at SummerSlam because it stunted their momentum with a big loss in their first big PPV event. Nonetheless, the entire Nexus concept has propelled Wade Barrett as a legitimate WWE superstar, and has showcased what guys like Daniel Bryan and Justin Gabriel are capable of doing in the ring.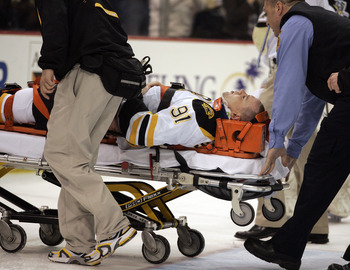 18. Headshots
In what truly stemmed from the Chris Benoit/double-murder suicide case in 2007, concussions were the hot-button issue of 2010 around professional sports and pro-wrestling. The NHL instituted a new rule to penalize blindside hits to the head, where players that target an unsuspecting player's head can be given a 5-minute major penalty, game misconduct and can be reviewed by the league for a possible suspension.
The NFL has also acted on punishing headshots in an attempt to reduce concussions. Helmet-to-helmet hits, and any tackler that dives and leads with his helmet will also be flagged and/or fined. Quarterbacks can't be hit in the head at anytime for any reason. There have also been new innovations in helmet technology in both leagues and a heightened awareness to the life altering damage multiple concussions can cause to a player. But despite these efforts, players are still being sidelined by head injuries.
WWE and TNA have also implemented a 'no chairshots to the head' rule as they continue to try and make their product as safe as possible for their employees. While none of the big-four professional sports have gotten a perfect system in place, they're in the midst of tweaking them in order to make them as effective and safe as possible.
17. Those That Left Us Too Soon…
2010 lost a lot of loved and revered athletes. George Steinbrenner, Pat Burns, Bob Probert, Sparky Anderson, John Wooden, Don Meredith, Manute Bol, Therese Rochette (Jeanine Rochette's mother), Jack Brisco, Chris Kanyon, Lance Cade, Ron Santo, Luna Vachon, Bastion Booger, Giant Gonzales, Bob Feller, Jose Lima and Ron Kramer are just some of the notables who have passed on this year. Their legacies, as well as those who's lives they've affected will live on.
16. Managers Final Farewell
Bobby Cox, Joe Torre, Lou Piniella and Cito Gaston all retired in 2010, amassing a career total of 7,555 wins. All four should find themselves enshrined in the Hall of Fame one day. Piniella left midseason to take care of his ill mother, Torre named Don Mattingly his heir of the Dodgers, Cox said goodbye after the Braves were eliminated in the postseason by the Giants and Gaston left to spend more time with his family. All four took different routes to get to where they are, and all four took different routes to retirement. All four will cross paths once again in the Baseball Hall of Fame.
In addition, the NFL saw QBs Kurt Warner and Brett Favre retire, as well as LHP Billy Wagner, all three of whom will be first-ballot Hall of Famers once they are eligible.
15. MLB Postseason Expansion in 2012
Rather than trying to re-balance the MLB, commissioner Bud Selig has unofficially expanded the postseason format, allowing for one more Wild Card from each league to make it to the second season. Yes, more teams make the playoffs, leading to better attendance and more money, but in a game that already has the longest seasons in professional sports, adding another series of roughly one week in length is going to take that much longer to complete. Essentially, come 2012, you could see the two best teams in a league that have already clinched spots, fighting to win and wasting their pitching during the last week of the season, while four other teams with worse records rest their starters and prepare for October. It's a concept that MLB will seriously need to figure out, as it could put the league's best teams at a disadvantage for performing well during the regular season.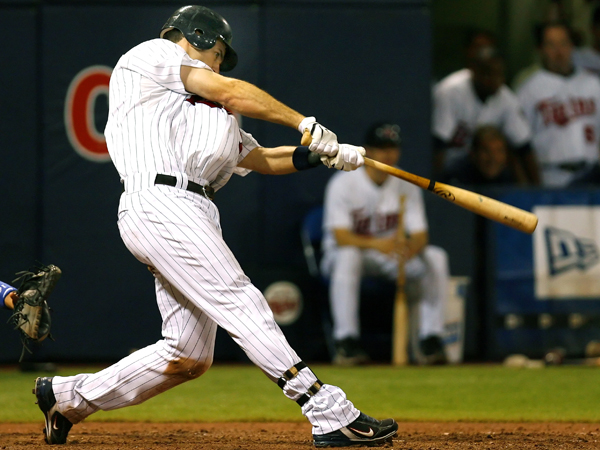 14. Big Apple Not Big Enough
Joe Mauer (8-year/$184M), Ryan Howard ($125M), Carl Crawford ($142M), Troy Tulowitzki ($134M), Jayson Werth ($126M), Cliff Lee ($120M), Adrian Gonzalez ($150M), Derrek Lee ($8M), Zack Greinke and Shaun Marcum were all either free agents or potential moving targets, but miraculously, all big-name players worth just under $1B stayed out of New York and away from the juggernaut Yankees. Some teams could easily afford it (Boston), and others couldn't (Colorado). For the first time in what seems like ages, the Yankees were unable to land a top-tier free agent or big-name acquisition through a trade. Fitting, too, that in a year where underdogs beat the favourites, the Yankees were turned down by just about everyone looking for employment. But with baseball's soon-to-be expired CBA looming (as are the NFL, NBA and NHL), the financial aspect continues to roll smoothly with regular nine-figure salaries.
13. Junior Naps in the Dugout, Retires
Just one month after falling asleep during a game in May, OF Ken Griffey Jr. announced his retirement from Major League Baseball. He is one of the last ball players left in the pre-steroid era, and he managed to stay clean despite the 'dark cloud' surrounding that time period, as well as the careers of those who played under it. The fact that he remained one of the best in the game despite his peers juicing is a testament to just how good The Kid really was.
Griffey retires as a 13-time All-Star, 10-time Gold Glove winner, 7-time Silver Slugger, 3-time Homerun Derby winner, 1992 All-Star Game MVP, 2005 NL Comeback Player of the Year, 1997 AL MVP and a member of the All-Century Team. Griff sits 5th on the all-time homerun list with 630, 14th on the all-time list in career RBIs and 219 hits short of 3,000. He's also tied for the record of most consecutive games with a home run. When Yankees' 3B Alex Rodriguez breaks Barry Bonds' homerun record of 762, no one will care because of A-Rod's past steroid use. Had it not been for injuries, it could've been Junior sitting atop that chart.
12. Stephen Strasburg's Electric Debut
Sucks to be the Pirates, doesn't it? RHP Stephen Strasburg had spent two long months in Harrisburg and Syracuse before finally being called up to the Washington Nationals. In a draft featuring Reds' LHP Aroldis Chapman, Braves' OF Jason Heyward and Giants' OF Buster Posey, Strasburg's debut was one of the most hyped and anticipated in recent memory. And boy, he didn't disappoint. While it was against a laughable Bucs' squad, Strasburg struck out 14 batters on only 96 pitches, and for the next 10 weeks, shocked the baseball world with his 100+mph fastball, sinking changeup and wicked slider. That is, until his elbow blew, forcing him to undergo Tommy John surgery, ending his 2010 season and likely his 2011 season as well. Strasburg wrapped up his 2010 rookie campaign pitching in 12 games, going 5-3. In 68 IP, he allowed just 56H, 22 ER, 5 HR and 17  BB, all while striking out 92 with a 2.91 ERA and 1.07 WHIP. Nationals' fans can't wait for 2012.
11. "Get off my mound."
On what seemed like a ho-hum April 22 night, Yankees' 3B Alex Rodriguez turned a triple-play in the bottom of the 6th–the first one in Yankees' history since 1968–that was supposed to be the game's highlight moment. But the shouting match during the top half of the inning between A-Rod and Athletics' LHP Dallas Braden is what we'll all remember. With Rodriguez on first, 2B Robinson Cano fouls a ball off. A-Rod returned to first from third base by going across the diamond and over the pitcher's mound. While this seems pedestrian to the average person, it's in direct violation of one of baseball's "unwritten rules," and Braden took exception to it. He said to Rodriguez, "get off my mound." Braden later said that night,
"I don't care if I'm Cy Young or the 25th man on the roster. If I've got the ball in my hand and I'm on that mound, that's my mound … He ran across the pitcher's mound foot on my rubber. No, not happening. We're not the door mat anymore."
A-Rod responded with,
"He just told me to get off his mound. I was a little surprised. I'd never quite heard that. Especially from a guy that has a handful of wins in his career … I thought it was pretty funny actually."
What makes this story even more remarkable is that Braden threw a perfect game–the 19th in MLB history–less than one month later on Mother's Day–a bittersweet accomplishment for Braden, who, in high school, lost his mother in a battle with cancer. Braden's grandmother, Peggy Lindsey, who has resumed the role of Braden's mother since her passing, capped off the remarkable night by saying,
"Stick it, A-Rod."
10. Giant Party
Giants' fans hadn't been through the same drought that the Cubs or Indians have gone through, but they made one hell of a story, having gone without a World Series chamionship since 1954. What makes this team so special is that they were mostly comprised of scraps and abandoned projects from around the league–a group of misfits is what they called themselves. From thongs (Aubrey Huff) and bongs (Tim Lincecum) to Fear the Beard (Brian Wilson), this year's championship team had it all.
9. Vick-torious
When QB Michael Vick was released from jail after serving 19 months on federal dog fighting charges, there were questions as to whether anyone would take a chance on the former superstar. The Eagles signed him to a 1-year contract with an option for a 2nd-year, believing that if he could control his off-field problems, they would be rewarded with his high potential and stellar on-field performance.
After spending his first season back in the NFL as a third stringer, Vick was promoted to backup this year and was eventually named starter after QB Donovan McNabb was dealt to the Redskins, combined with an injury to QB Kevin Kolb. But not a single soul saw this coming. After Kolb went down in the second quarter of the Eagles' Week 1 game against the Packers, Vick sparked a comeback that ultimately fell short in a 27-20 loss. Vick continued to surprise and dominate the NFL, as he's now among the league leaders in QB rating, touchdowns and is in the conversation for MVP. Not only that, but the Eagles are the No. 3 ranked playoff team in the NFC as we head into the postseason. In the posterboy-game of his comeback season,  a 59-28 victory over the Redskins, Vick threw for 333 yards and four touchdowns while also running for 80 yards and two rushing TDs. He's also been speaking at schools to get the anti-dog fighting message out across the USA to children that could be destined for the same fate that Vick suffered just a few years ago.
8. Legendary Fall
Vikigs' QB Brett Favre's game-killing interception to end last season's NFC Championship was thought to be the final stumbling block before a Superbowl run in 2010-11. Instead, we saw the colossal demise of the greatest quarterback to ever take a snap. On the field, Favre suffered through a right shoulder sprain, elbow tendinitis and stress fractures in his left ankle and heel, but had kept his consecutive game streak alive, despite a 3-7 start to the season that saw Brad Childress lose his job. Off the field, the problems for Favre were just as bad. Former Jets employee Jenn Sterger claimed that Favre left her inappropriate phones messages and texted her nude pictures of himself while they were both members of the Jets organization two years ago. Since then, Favre has suffered a concussion and saw his consecutive games streak end, as he's now missed multiple games this season. Favre has now admitted to the phone messages, but denies that he ever sent pictures to Sterger, which resulted in a lenient fine, rather than a suspension that most thought he'd receive. On January 2, after the Vikings final game of the season, Favre re-iterated that he's played his final game in the NFL, and that he has "no regrets."
7. The Year of the Pitcher
Baseball was all about pitching in 2010, and it was a welcome change after nonstop talk of the Steroid Era and players juicing for over a decade. There were two perfect games (A's LHP Dallas Braden and Phillies' RHP Roy Halladay) and three no-hitters (Rockies' RHP Ubaldo Jimenez, D'Backs' RHP Edwin Jackson and Rays' RHP Matt Garza), followed by a no-hitter game in the postseason (Halladay again). Both home runs and runs scored fell drastically this season, and 15 starters finished with sub-3.00 ERAs. In contrast, 10 years ago, there were only two. Thankfully, Doc won the NL Cy Young, while Mariners' RHP Felix Hernandez won the AL Cy Young despite finishing 18th in wins with a 13-12 record. Proof that solid pitching wins.
6. Perfectly imperfect
The only perfect game that won't go down in the record books. For those that missed it (anyone?), Tigers' RHP Armando Galarraga had pitched 8 2/3 perfect innings before Indians' SS Jason Donald came up to bat as the potential 27th out. He hit a dribbler to first, which 1B Miguel Cabrera fielded cleanly and tossed to Galarraga, now covering the vacant base. This should've been the 27th out, but umpire Jim Joyce, one of the premier umpires in the MLB, called Donald safe. Instant replays around the world showed that Donald was out indisputably out by a step.
What surprised many was that both men conducted themselves with class and integrity. Galarraga could have done a million things at this point in time–complain, punch him, call for his firing–but instead, he simply said that Joyce was human, and excused the potential of human error. Rather than hiding or denying it, Joyce admitted that he made the wrong call, and humbly apologized to Galarraga for costing him a once-in-a-lifetime opporunity (unless your name is Roy Halladay). While it warms the heart to see Galarraga forgiving Joyce, and Joyce humbly accepting, it has opened a can of worms in regards to instant replay in Major League Baseball, a concept that the league continues to battle with as we head into the new year.
5. "The Streak" vs. "The Career" – Undertaker vs. HBK II
Nothing really ever came close to beating this. The match of 2009 was unquestionably HBK/Taker at WrestleMania 25. Many thought that doing a rematch at WM26 would be overkill. It wasn't, and it totally lived up to the hype. In fact, it may have topped the previous year's match. I find it absolutely fascinating that two 40-year-olds (45 and 44 at WM26) were able to have Match of the Year matches at such an old age. It says something remarkable about their physical condition and just how gifted and one-of-a-kind both men are in the ring. Some will say their WM25 match was better than WM26, and there can be an argument made for either case, but what everyone agrees on is that both matches are among the greatest in WWE history, and in the opinion of many, including myself, locked into the top-5 all-time. From the storyline buildup, to the in-ring work, to the crowd suspense, this match and storyline was truly special from start to finish.
The angle building up to the match was simple – HBK calls out Taker at the Slammy Awards, which gets denied. Michaels slowly begins to go crazy and obsess over it, causing ripples with DX and Triple H before losing his "last chance" at the Royal Rumble. Taking it to the extreme, HBK cost Undertaker a chance at the title, causing Taker to accept the rematch. He finally forced Taker's hand after costing him the title and he had his rematch at last.
After the final bell, Mr. WrestleMania, Shawn Michaels, was forced to retire. As a lifelong HBK fan, I desperately wanted the streak to end–if anyone was going to end the streak ever, it was going to be HBK at WM26–but deep down, I knew the Dead Man was walking out at 18-0. Michaels lost but showed his true fighting spirit by refusing to stay down, he made The Undertaker finish him. And unlike another wrestler who lost a career ending match at WrestleMania, Michaels has remained on the sidelines ever since. The following night on Raw, he gave his emotional, heartfelt goodbye, ending the in-ring days of one of the greatest superstars to ever walk through the curtain. As I recall his farewell speech, I can still feel myself getting choked up. To be totally honest, there are four times I've cried because of pro wrestling: Owen Hart's death, Eddie Guerrero's death, Ric Flair's retirement and HBK's retirement. Keep in mind that I'm a grown man. If you missed either match or either buildup, you need to see this, even if you're only a casual wrestling fan.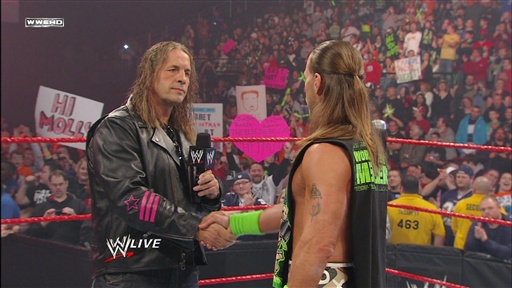 4. Hart of a Champion
Did anyone ever think that we'd ever see a moment like this in history? Hell literally froze over. For starters, Bret "The Hitman" Hart returned to the WWE after a 12-year absence, dating back to Survivor Series of 1997 when the infamous "Montreal Screwjob" occurred. After years of holding a grudge against Vince McMahon, Triple H, and most of all, Shawn Michaels, The Hitman made his return home on January 4, 2010 as a special guest. His first order of business–Shawn Michaels. He immediately called out HBK, and the two exchanged some thoughts and feelings that have been built up over the years. Despite HBK finding himself in Christianity and having forgiven Bret for his half of the incident, the two had legitimately not spoken to each other for 12 years. Nothing they said in the ring was rehearsed backstage–all of it was shoot from the hip, straight from the heart. Ultimately, the two shook hands and hugged, officially burying the hatchet. The two have slowly become friends, and to this day, remain in contact with each other.
After a disappointing feud with Vince McMahon at WrestleMania, Bret went on to win the United States Championship (thanks to the Hart Dynasty) from the Miz. Bret immediately vacated the belt. Some thought that giving Bret the title was stupid, but I didn't mind it. I was not a Bret fan, and I still believe that 'Bret screwed Bret,' but giving him the beatdown over Vince, plus the US title win was a classy move by the WWE.
I really can't think of anything bigger than the guy from Wrestling from Shadows who smashed Vince McMahon's face in, and had one of the most public feuds against Vince of the last 10 years, actually reconciling and wrestling him at WrestleMania 26. Bret and Shawn hugging it out is one of the best moments of 2010, let alone in the history of pro wrestling, simply because of how colossal this entire situation has been over the past 12 years. My anticipation for that January 4 edition of Raw event was by far the most excited I was for a show in recent memory. The rest of the storyline disappointed, but January 4, 2010 was one of the most special nights I've ever witnessed as a wrestling fan.
The 2010 golf major championship schedule looked very favourable for Tiger Woods. The U.S. Open was at Pebble Beach, where he set a record by winning a major tournament by 15 strokes in 2000. The British Open was at The Old Course at St. Andrews, where he's won twice. He also held four Masters Championships at Augusta.
The build up from last year's Thanksgiving Day incident, allegations of him cheating on his wife, Elin Nordegren, and an incredible media tirade forced Tiger out of the PGA Tour. Rumours started that Woods checked himself into a rehab clinic in an attempt to piece together his broken marriage with Elin. Eventually, Tiger broke his long silence by holding a 13-minute televised address where he spoke publically for the first time about his marital troubles and accusations of infidelity.
Those troubles were now aired out, but they remained at the forefront of Woods' life. In August, Nordegren and Woods filed for divorce, and it has been reported that she received a whopping $750M in the settlement, in addition to custody of their children–Sam, 3, and Charlie, 1. And the cherry on top? Woods finished with his worst professional season ever, failing to win a single tournament–let alone a major. Finally, Lee Westwood assumed the throne of the world's No. 1 ranking on the PGA Tour, knocking Woods off the top of the chart for the first time in five years.
2. The Decision
2010 can literally be summed up by saying, "I'm taking my talents to South Beach…" LeBron James' classless and egotistical hour-long ESPN special entitled "The Decision" instantly made him one of the biggest heels on the planet–like, Hulk Hogan joining the nWo big. LBJ would join Dwyane Wade and Chris Bosh in Miami to make the Super Best Friends in an attempt to win multiple championships. LeBron jerseys were burned or shredded in the streets, the giant 'Witness' banner that was hung to celebrate the hometown hero was taken down unceremoniously, and Cavs fans prepared for and circled December 2 their calendar, when the Heat would make their first trip to Cleveland. The Heat won convincingly, with LeBron dropping 38 points in three quarters en route to a 118-90 victory.
The debate continues, though. If LeBron can win one championship–let alone multiple titles–can he be considered among the NBA greats? I say no, simply because he had to leave Miami to do it. Michael Jordan never left Chicago. Larry Bird never left Boston. Kobe Bryant nor Magic Johnson left Los Angeles. 'When the going gets tough, the tough get going.' Even if LeBron wins 10 championships, he will never truly be on the same platform as the rest of the NBA legends.
Just one week earlier, Team USA held their heads up high after knocking off Canada 5-3 in the final preliminary round, earning the USA a first-round bye in the playoffs. All of Canada was in a state of shock and panic. The Canadians re-grouped and breezed through the playoff rounds with victories over Germany, Russia and Slovakia, setting up a finals re-match with the Americans. Canada jumped out to a 2-0 lead, but the Americans showed why they were undefeated. Ryan Kesler scored to make the score 2-1 and then with only 25 seconds left in the game, and Zack Parise beat Roberto Luongo to send the game to overtime.
Cue the dramatics. Seven minutes and 40 seconds of overtime played at the highest skill level possible, and Sidney Crosby beats Ryan Miller five-hole to win the once-in-a-lifetime gold for Canada. Canadians, from coast to coast and around the world, went into a wild celebration that spilled out into streets, closed major roadways and united the country in euphoria for one of the most historic goals ever scored in the history of hockey.